Measures the documents, time, and cost (excluding tariffs) associated with exporting and importing a standardized cargo of goods by sea transport. In the Philippines, this cargo refers to electrical machinery.
Improved efficiency of the judicial system in resolving a commercial dispute through: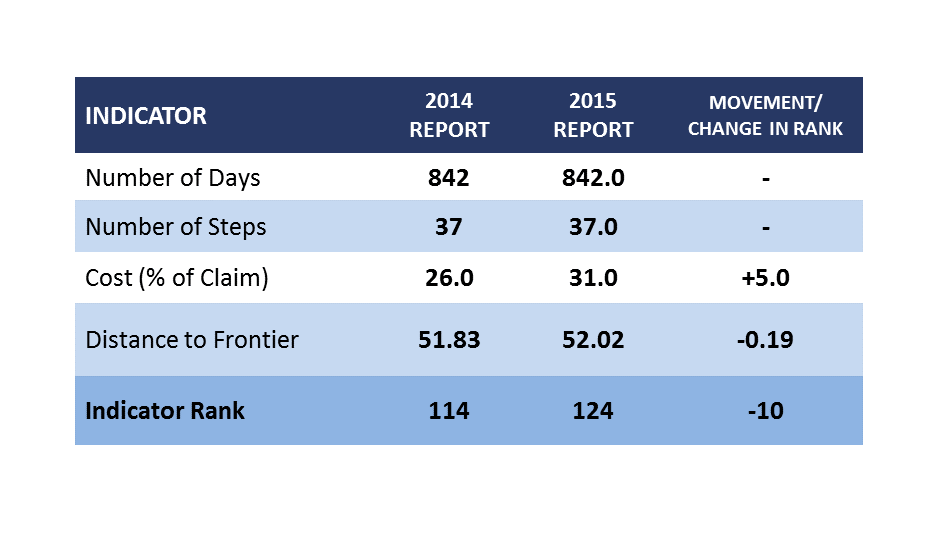 REFORMS:
Issuance of A.M 13-10-08-SC on the roll-out of eCourts Project in 73 Trial Court Branches including Quezon City. The eCourt Project is an automated case management system which increases court efficiency by providing a modern tool primarily for judges and court personnel to monitor, manage and process cases and for court officials to monitor performance.
Issuance and implementation of A.M. No. 14-09-06-SC on the updated Enterprise Information Systems Work Plan and Budget. The Enterprise Information Systems Plan (EISP) is aimed to speed-up the adjudication of cases, increasing personnel productivity, and improving the overall court management.
Development and institutionalization of the The Supreme Court's Small Claims Case Monitoring System (SC2MS) to facilitate the monitoring of the disposition of small claims cases and to serve as a reporting tool to evaluate the effectiveness of the small claims rules and the performance of the first level courts in handling small claims cases.
UPDATES:
Other updates to facilitate enforcement of contracts include:
Launch of the Court of Appeals' Case Management Information System last June 2008, making public access to court decisions/resolutions much easier through online publication of judgments.
Full implementation of the eLibrary System. Since 2004, court issuances, executive issuances, laws and regulations, treaties and other legal references of the Supreme Court, Court of Appeals, Court of Tax Appeals, and Sandiganbayan could be easily accessed through this System which was fully implemented through the issuance of A.M. No. 04-11-09-SC.
Launch of the Hustisyeah! Case Decongestion Program in July 2013 with 33 participating courts in Quezon City, allowing volunteer paralegals and lawyers, and Court Management Office personnel to go to target courts and do an intensive and methodical inventory of cases. The program resulted to disposal of 30% of cases as of December 2014, without considering the inflow of new cases during the same period
Reference Links: